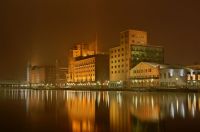 This meeting, which will be organized by ARBEIT UND LEBEN in cooperation with the city-administration of Duisburg, will thematically focus on different approaches in education and training for staff working with people with migrant background.
Apart from teaching personal and administration-staff an additional category are people in the health-care and nursery sector, as there is also an increasing need in care of elderly people with migrant background who are not able or willing to return to their country of origin after retirement.
The programme includes a presentation of the concepts "Duisburg 2027 - Integration As Matter of City Development" and "Support of Intercultural Competence of Municipal Staff and Local Actors in Integration Policies by Further Qualification and Training" in the Duisburg city-administration as well as visits and discussions with representatives of various institutions, like the municipal adult education center VHS Duisburg, the DITIB-Merkez Mosque / Education center and the intercultural rest home for senior-citizens "Haus am Sandberg".