Turun suomenkielinen työväenopisto (Turku Adult Education Centre) is an adult education centre owned by the City of Turku and was established in 1908. Currently, the institute has 16,000 learners attend the various courses, lectures and activities provided.
During last year our district in the south-west part of Finland saw an increase in the number of immigrants. A sharp rise in the number of immigrants to the south-western part of Finland has taken place within recent years and the rate is expected to increase. The need is obvious for improvement in educational opportunities that our city offers to immigrants. There is a need in our city to place immigrants into a schooling system to better their future.
The Turku Adult Educational Centre has offered courses for foreigners for twenty-five years. Most of the courses offered deal with language. We have different levels of Finnish language courses suiting whatever level a persons Finnish abilities may be. We have had many students from Russia, Estonia, Yugoslavia and Somalia attending these courses.
Our institute has arranged integrating activities for new-comers. We arrange these activities in cooperation with The City of Turku and with the Foreign Office of Turku. Our Finnish language teachers have been teaching different groups of immigrants including; new-comes, elderly people, working people, the unemployed as well as house-wives. We have also had many projects concerning immigrant activities; arts, handicraft and manual skills, information technology skills, physical training, different lecture courses etc. In this training and project work we cooperate actively with local public authorities and many public organisations (Labour offices, Education Centres, libraries, hospitals, Refugee Centres etc.).
Turku Adult Educational Centre provides general education to adults with the aim of improving their skills, know-how, mental well-being and fitness and targeting a good life. Our Centre promotes the development of a system called lifelong learning. The learners' age group is between 16 and 75.
Our organization, a non-profit civic institution, has traditionally been open to all adult learners, regardless of gender, educational background, age or vocation. The purpose is to promote personal development and initiative of individuals; their adaptation to working life and society at large; their participation in democratic decision making processes and their ability to adjust to economic, social and technological change.
The Centre creates study environments that make learning a good experience, where intellectual problems are solved, and where studying produces creativity, better knowledge, new resources and improved cultural skills.
International activity and multicultural skills have always been very important characteristics of our institution. The learners have an opportunity to work in multicultural neighbourhoods, contributing to the development of mutual understanding, trust and tolerance among all adult learners. Therefore the trainees who have joined or join the courses organized by our institution gain practical teaching skills, personal development skills, collaborative working methods, techniques and methodologies in order to adapt culture, education and social life more effectively.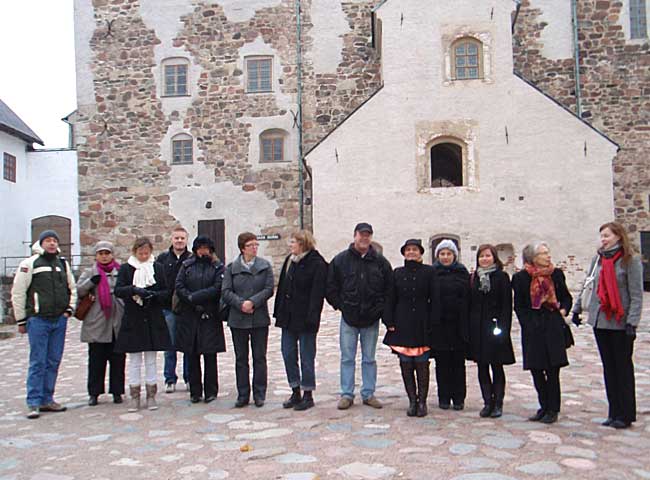 We believe that adult education covers not only the local and national aspects but also international and multi-cultural ones, so the integration of our learners and staff into the international links can be supported by these kinds of projects. Our learners and staff are willing to work with their peers and colleagues in order to share their experience and culture on the basis of education as it is essential to have a greater understanding of each other.
Analyzing within a European context, comparing and exchanging valuable information on existing education/training pathways in the field of intercultural mediation services within public administration supplies our Institute with a very good opportunity to develop our immigrant integration abilities in accordance with the best European educational and administrative aspects.
To assist the Turku Adult Education Centre enhance its value of lifelong learning and migrant activities the institute has developed partnerships with other establishments in the Turku area. These include: The Finnish Red-Cross Southwest district and the Turku Educational Centre, Adult section. The institute also has international partners in this field including Germany, Denmark and Estonia. The Turku Adult Education Centre has sent representatives to different countries concerning different projects that assist the institute in various matters of immigration, integration, educational opportunities and language courses.
To help assist not only the Turku Adult Education Centre but also the partners involved with migrants, a questionnaire was developed and submitted to institutes in the area that work with Adult immigrants. The experience of the workers who answered the questionnaire ranged from two months to 20 years. They all hoped to receive additional training and continuing education pertaining to their profession. Other results included:


That teaching requires various strategies of communication, not just oral and written communication.

Some course members who are refugees or asylum seekers find themselves incapable of learning due to distressing and extreme life situations they may have experienced.

Teaching methods need to be multi-faceted and adapted to the various situations.

That personal strength of the pupils needs to be taken into account.

Material is varied and taken from various study books.